Welcome to the virtual gallery of the global Editorial cartoonist Paresh Nath. This is the new version of Paresh Nath's internationalcartoons.com, launched in the year 2000. With wide-ranging varieties from world politics to business, trade, economy, foreign relations, corporate, environment, social fun the platform aims to sell and circulate cartoons and caricatures to global clients.
Editors of worldwide newspapers, magazines, publication houses, news-based media channels, social media groups, social as well as non-government organizations, filmmakers, United Nations' bodies like WHO, UNICEF, UNESCO, FAO, UNFPA, UNDP, UNIDO who bring out newsletters and the websites, scholars, school, college, university students, professors, researchers, authors and also commoners can buy the cartoons for appropriate use with proper permission.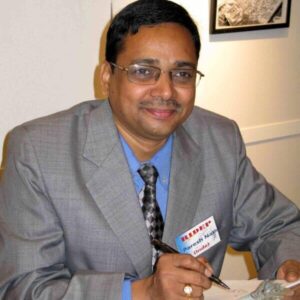 Paresh Nath is an Editorial Cartoonist with more than 35 years of experience in international media.  Being based in New Delhi he has been working as the Chief Cartoonist of The Khaleej Times, Dubai of United Arab Emirates for 15 years since 2005. He had worked for 18 years as the Chief cartoonist of National Herald, founded by Pt. Jawaharlal Nehru. Before that in 1990s he was a freelancer for The Indian Express of New Delhi.
Being dubbed as a 'person of versatility', Paresh Nath has worked in many fields as a debut and gained spectacular success. He tries to preach peace, goodwill, friendship and universal brotherhood through his work.
EARLY LIFE CAREER & FAMILY
His creative career gained momentum during his MA studies in English and American Literature in Ravenshaw college- the legendary institution set up by a Britisher, Sir T.E. Ravenshaw, which was also the alma mater of the eminent freedom fighter Netaji Subash Chandra Bose, and a source of inspiration for Paresh. His cartoons and illustrations were being published in newspapers during his college days.
Being a born cartoonist, and at various times teaching English in the college, a prolific feature writer, an Editor of a Cartoon monthly, a journalist with a keen nose for news, an Art Director in population-oriented documentary films with aesthetic sense, a researcher, script writer, and Director of film on tribal dances, an ace animator in cartoon films, Paresh Nath spent earlier five years as Cartoonist and Sub-Editor in a vernacular press, The Samaj in Cuttack, in the south eastern part of India.
In 1989, he started working as a freelancer for The Indian Express of New Delhi. In 1990, he joined The National Herald and then The Khaleej Times in 2005. His cartoons are syndicated by New York Times Syndicate and caglecartoons.com of USA for worldwide circulation.
Paresh Nath is married and has two sons- Suman Sourabh and Sugyan Gourab. The paramount support of his wife Mrs. Soubhagya Laxmi is inalienable who is the prime source of his success and inspiration. When he is not plugging away his cartoons or caricaturing a newsmaker, Paresh Nath writes middles and humour columns. He is also making culture on yoga and mysticism.
His funny, incisively wise, informative and never-malicious cartoon pieces have touched millions of readers and have been reproduced in international newspapers and periodicals such as THE NEW YORK TIMES (USA), INTERNATIONAL HERALD TRIBUNE (Paris & Bangkok Editions), WORLD PRESS REVIEW (U.S.A), LOS ANGELES TIMES (USA), OUEST FRANCE(France), TIME, INTERNATIONAL NEWSWEEK(USA), LE MONDE,  INTERNATIONAL COURRIER(Paris), ENTWICKLUNGSPOLITIK(Germany), THAT'S SANGHAI(China), KHALEEJ TIMES(U.A.E), JUST BUSINESS(USA), SOCIAL EUROPE JOURNAL (U.K.), THE JEWISH CHRONICLE(U.K.), INTERNATIONALE POLITIK(Germany), INTERNAZIONALE (Italy), DUBLIN QUARTERLY, KODANSHA (Japan), NVR MAGAZINE (China), MORGENBLADET, VERDENSMAGASINET, LO MEDIA (Norway).
In India his cartoons have been reprinted in INDIAN EXPRESS, FINANCIAL EXPRESS, TIMES OF INDIA, HINDUSTAN TIMES, ILLUSTRATED WEEKLY, ASIAN AGE, THE PIONEER, PAGE3, PROBE INDIA, INDIA TODAY, BUSINESS TODAY, EVENING NEWS, SUN, NORTH-EAST SUN, ORGANISER, CO-OP HORIZON, NEIGHBOURHOOD FLASH, MUMBAI SAMACHAR, SAMYUKTA-KARNATAKA, U.T. INDEPENDENT (India) and various other international & national  dailies, periodicals and books ( SAT-2, WORLD HISTORY by Kaplan Publications of New York, USA), SMILE EUROPA by European Union Parliament (Portugal).
For him, cartoon is a mere visual or pictorial satire with the experience of the world, and it is this experience that it ultimately communicates.
"My aim through the cartoon," says Paresh, "is to educate the people about the political and social changes taking place in the society, to bring out the weakness and inconsistencies in the pronouncement of world leaders as compared to the high principles to which they profess, amuse the reader by bringing out the incongruities in various aspects of life."
ACHIEVEMENTS & RECOGNITIONS
He has earlier won Honourable Mention in THE UNITED NATIONS CORRESPONDENTS ASSOCIATION RANAN LURIE POLITICAL CARTOON AWARD for the consecutive years 2000 and 2001.
His cartoons were selected in a contest among the professional political cartoonists throughout the world and made him win this prestigious award at the UN headquarters in New York. He is the first Indian cartoonist to receive these awards on his cartoons on 'Peacekeepers in Sierra Lione' and 'The Global AIDS Fund'.
The UNCA, in its desire to promote the highest standard of excellence in political cartoons depicting the spirit and principles of the United Nations, has established this annual political cartoon award in the international field, and named the award after the world's leading cartoonist Ranan Lurie. The members of the award committee are from the world's leading news agencies like BBC, IPS, Al Hayat, NBC News, Ethnos, Ria Novosti, CNN, Le Monde, Tribune Television of USA, Milliet of Turkey, Far Eastern Economic Review and others. The panel of judges comprised of Nobel Laureates and the honourable Ambassadors of the UN.
Being felicitated with the great French Honour "Le Chevalier" (Knighthood) of Bretvins in the Fifth International Editorial Cartoon Festival, in Nantes, France in the year 2004; he was in a team of World famous cartoonists such as Kevin Kallagher( The Economist), Ted Rall (New York Times), Pulitzer award-winners like David Horsey( Seattle Post Intelligencer) and Steve Benson (Arizona Republic) of America.
Paresh got wide coverage through interviews and debates in BBC, CNN, Radio France International as he represented India. Paresh Nath has been ranked among the top Editorial Cartoonists of the world.
He represented India and was felicitated in International Cartoonists' Forum in Dubai (U.A.E.) in 2002.
Paresh is:
MEMBER, Dubai Press Club, U.A.E
MEMBER, The panel of Cartoonists, DAVP.
MEMBER, Federation of Cartoonists' Organisation,FECO, Germany
MEMBER, Cartooning for Peace Foundation, Paris
Felicitated as first NAM (Non-Aligned Movement) Cartoonist Award for Life time Achievement by NAM TODAY in 2017 in New Delhi
Exhibited cartoons in different world cities through Cartooning for Peace Foundation, Paris in 2011, 2012
Exhibited cartoons on World economy, climate change in G-20 Summit in Pittsburgh, USA, in September14-Oct.16, 2009
Exhibited Cartoons in London School of Economics, U.K., in October11-Nov.29, 2007.
Exhibited cartoons in Parliament of European Union in Portugal during 50 years of Rome Treaty in 2007
Awarded and Exhibited cartoons in International Editorial Cartoon Festivals in Carquefou, Nantes, France in 2004, 2006 & 2009
Exhibited cartoons for AIDS Prevention campaign for The Health Ministry,  Govt of  Brazil in 2004.
Awarded and Exhibited cartoons in Third International Ploiesti Cartoon Festival in Romania in 2003.
Exhibited cartoons in Second HumoDaeva International Cartoon Contest in Romania in 2002. 
Exhibited cartoons in International Cartoon Festival in Ankara, Turkey, in 2003.
Cartoons selected for exhibition in International Cartoon Festival in Teheran, Iran in 2002
Winner of PADARVINDA MEMORIAL AWARD FOR ENVIRONMENT in the year 2001 from Servants of the People Society, in Orissa. 
Felicitated and Exhibited Cartoons in Kochi in Indian state Kerala in 2017 organised by Kerala Cartoon Academy.
Exhibited Cartoons at Indian Institute of Cartoonists gallery in Bengaluru in Indian state Karnataka in 2019.
Felicitated by SAHITYA KALA PARISHAD, New Delhi on the eve of 7th Yuva Mahostav in 1992.
Anders Jericho, a Danish Editor in his book "Cartoonists in a Minefield" (Gyldendal Publishing House, Copen Hagen) write one chapter on Paresh as the success of India's Globalisation.
Calling Paresh Nath as "India's first international Cartoonist", Jens Robinson, President of Cartoons Arts International, USA writes, "the depth, research quality and consistency found in his cartoons are not seen in the work of any other Indian cartoonists".
Paresh Nath is in Rank-4 among Top 10 Legendary Indian Cartoonists as the other top three being Cartoonist Shankar, R.K. Laxman and Mario Miranda, according to Google Survey (http://topyaps.com/top-10-legendary-indian-cartoonists).